Elements for structural works and bridges  
We are proud to claim that Ergon is unique in the field of manufacturing bridge beams. Our main trumps are our production capacity, our know-how and our craftsmanship, which enable us to manufacture bridge beams with spans up to 60 meters and weights up to 250 tons.
Ergon combines all the existing prestressing techniques, i.e. pretensioning, post-tensioning and preflexing (incorporated prebent steel beams), with the use of high strength concrete (100 N/mm²).
Standard beams
The standard system wo offer consists of beams with an I-shaped section. Brigde beams are particularly applied in combination with an in-situ casted concrete slab, mostly executed using prefabricated wideslabs as lost formwork.
Special beams
For special applications, appropriate solutions can always been examined and developed in collaboration with your engineering office.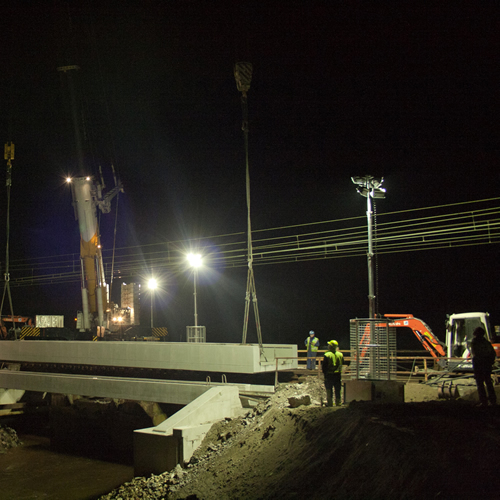 Do you want more information or technical data?